Entrepreneur AI - AI Powered Business Advisor Assistant
Posted in category
Artificial Intelligence
on
439
Words
~3
Minute Reading Time •
Subscribe
to receive updates on
Artificial Intelligence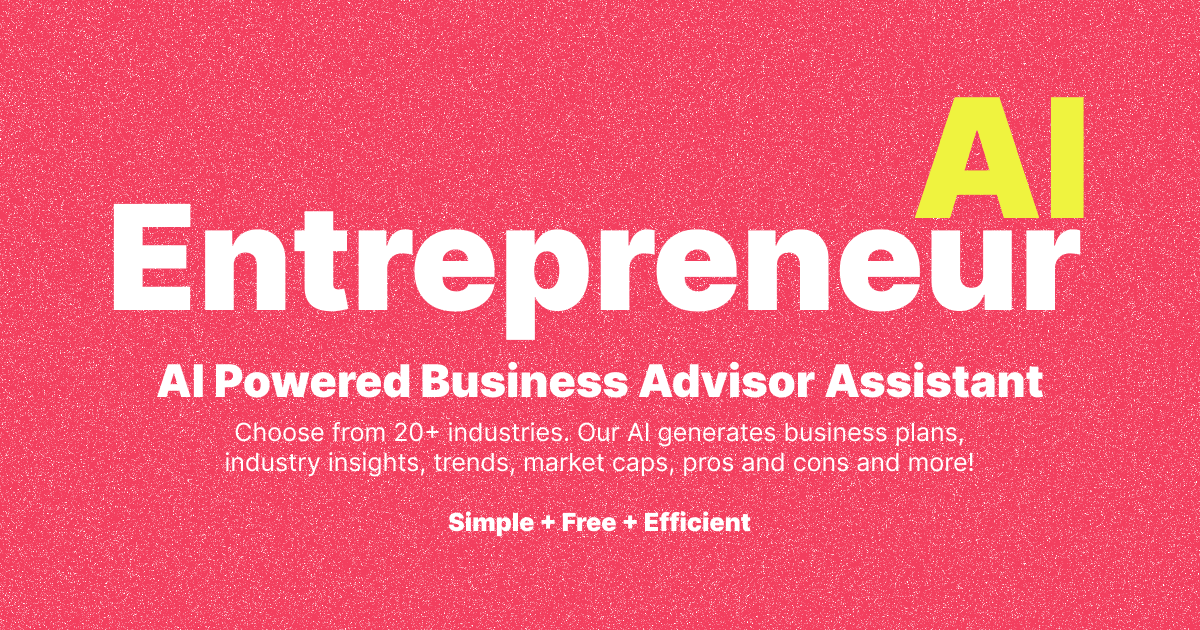 Entrepreneur Assistant AI
In the dynamic and fast-paced world of entrepreneurship, having access to the right information at the right time can make the difference between success and failure. That's where the Entrepreneur Assistant AI - AI Powered Business Advisor Assistant comes into play.
What is Entrepreneur Assistant AI?
Entrepreneur Assistant AI is a powerful digital tool designed to help entrepreneurs, pioneers, and leaders navigate the complex terrain of business. Whether you're operating in finance, healthcare, technology, manufacturing, retail, real estate, or education, our AI is engineered to deliver industry-specific advice and resources right at your fingertips.
How Does It Work?
Using advanced AI algorithms and a vast dataset of industry knowledge, market trends, and case studies, Entrepreneur Assistant AI processes your queries and provides tailored advice. This is more than just a data lookup - the AI is designed to understand the context of your input, generating insights that are relevant to your specific circumstances.
Here's a glimpse of the features:
Tailored Industry Advice: Whether it's market trends, competitor analysis, or business strategies, get comprehensive insights specific to your chosen industry.

Resource Provision: Get directed towards helpful resources like relevant articles, industry reports, and networking opportunities.

Pros and Cons Analysis: For any given industry issue, the AI lists out potential advantages and disadvantages, helping you make informed decisions.

Market Cap Sizes: For business owners looking at market dynamics, the AI can list out companies within an industry along with their market cap sizes.
Who Can Benefit from Entrepreneur Assistant AI?
Founders:
Are you just starting your entrepreneurial journey? Get industry-specific advice, understand market trends, and receive strategic guidance to steer your startup in the right direction.
Pioneers:
If you're looking to innovate or disrupt existing markets, use the AI to understand industry dynamics, recognize potential challenges, and identify opportunities.
Leaders:
Make informed decisions by gaining a deeper understanding of your industry. Use the AI to refine your business strategies and stay ahead of the curve.
Businesses:
For businesses, our AI can provide insights into competitors, market trends, and industry resources, facilitating strategic planning and decision making.
The Entrepreneur Assistant AI - AI Powered Business Advisor Assistant is designed to be your go-to digital companion for your entrepreneurial journey. It leverages the power of AI to provide actionable insights, thus aiding you in making more informed business decisions. Start using Entrepreneur Assistant AI today and power up your entrepreneurship journey!
Discover More AI Tools
Supporting My Work
Please consider Buying Me A Coffee. I work hard to bring you my best content and any support would be greatly appreciated. Thank you for your support!
Contact
---