My son, Calder will turn six in April 2020. His biggest interests since he started walking have been primarily Legos and Insects. While he is still very interested in these things, his focus has shifted drastically after making a discovery on YouTube about video games. More specifically, MineCraft.
He started becoming interested in Minecraft from watching his favorite shows on YouTube Kids on his iPad. His vocabulary started to grow quickly and within a couple of days he began saying words like "Ender Dragon", "The End", "Command Block", and others. I really noticed his appreciation for the game and noticed how his brain was quickly developing and absorbing the concepts of the game. He started to apply logic and critical thinking during game play. It's a pleasure as a father to witness his mind explode.
Fast forward four months and Calder is now using a Mac Book Pro, running Twitch, and together we've installed Minecraft Mod Packs. Calder's favorite mod is RLCraft. While RLCraft and other mod packs are aimed at more advanced users, Calder tones it down by refusing to play in Survival Mode. This is great for me, because then he will not "die" and he can play in Creative Mode and explore on his own terms.
In Creative Mode, Calder has transitioned his creativity of constructing his epic Lego MOCS and applied his creative thinking into Minecraft structures. I must admit, some of the homes he's constructed are 100% livable - I love his modernism and minimalism.
Below is a screenshot of a Castle Calder and I made together in a Flat World.
Calder Made A Castle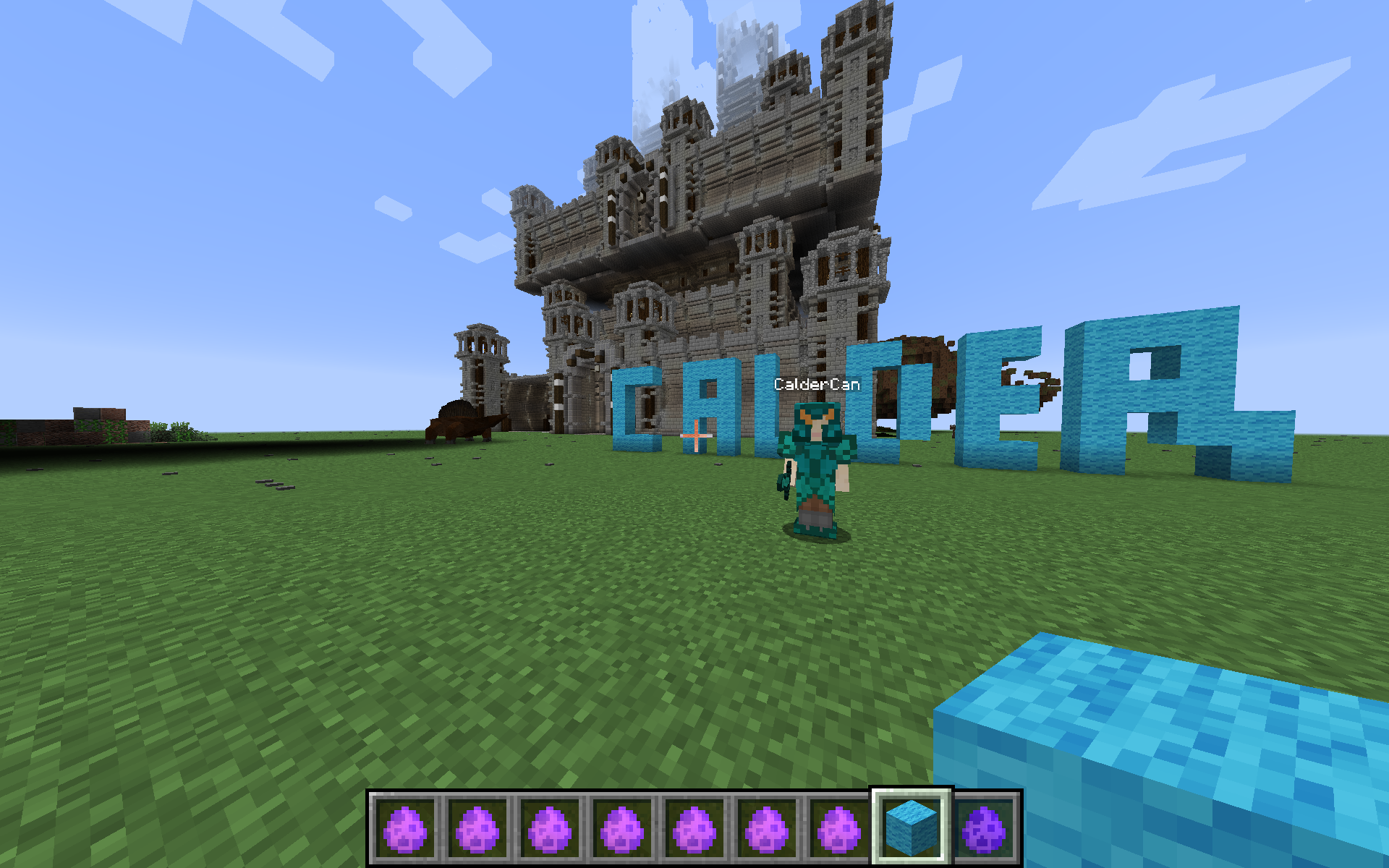 Minecraft Education
I spoke with Calder's teachers about how to get him motivated in school more. He's in Kindergarten and unfortunately he's not at the reading level the school would like him to be at. We're still working on assisting him daily.
One of the takeaways during our Parent Teacher Conferences was around us leaning into using Minecraft as a way to motivate Calder to learn how to read more words. I've found that he often asks me how to spell a certain word in the Minecraft search field to locate a specific item. I try to encourage him to sound out the words and he's been doing a great job of it. Although, he'll stop searching once he types in the first few letters... but I believe he's learning just by seeing the item and the word next to it. He's making the associations our brains need to identify something.
Where Do We Go Next
Well, since starting the game, we've done the following in Minecraft:
Add Texture Packs
Add Mod Packs
Summon items / mobs / etc with command line
Build Villages
Destroy all mobs - including Ender Dragon, Wither, etc.
Teleport
Clone & Replace items
We've basically completed the game. I think the next thing we will do together is:
Create our own mod pack in Java
Stream on Twitch & Youtube
Play in survival mode
Try the Minecraft Education Edition
Teach Minecraft at Calder's School
Minecraft is amazing. I was completely against it before I took the plunge to fully understand it. It makes learning fun and is teaching kids and people how to think logically and freely.
---